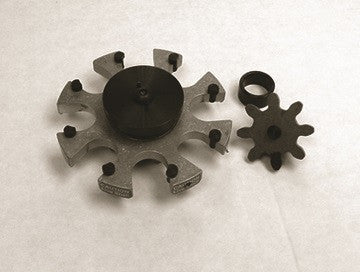 ---
800 DIE REMOVAL SYSTEM
Part # DieSystem8
New from Ponsness/Warren is a die removal system for all 800 series reloaders.
The new "800 Die Removal System" is the same system we use on the new "800Plus" and "Patriot" reloaders.
This kit allows for the easy removal of shells from virtually any station on the reloader.  Now you can quickly check shot and powder charges, inspect shells, or easily remove damaged shells.
All kits are pre-timed at the factory and consists of the following parts:
*  Die Removal Cylinder
*  Main Index Gear
*  Star Gear Assembly
*  Center Post Assembly
....all this, with the easy to follow instructions.
We also include the "Shell Extracting Kit" which allows you to easily knock out a shell from the sizing dies.
The 800 Die Removal System is available for 800B, 800C, and 800 Cvt. machines in all gauges.
---
Share this Product
---
More from this collection